Vegetarian Zucchini Lasagna
My love for zucchini is very apparent to those who have spent some time with me. I use it in almost every dish I cook. One my my favorite dishes, which is probably the dish that I make the most often, is Zucchini Lasagna. I recently got a vegetable slicer (I think it's called a mandoline) which makes slicing the zucchini into long pasta-like strips much easier and less dangerous than risking my thumb and forefinger. And it's actually really simple and easy to make:
Ingredients
Glass baking dish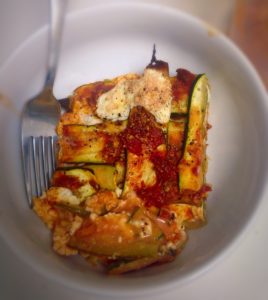 4 Small zucchini (or 2 large)
Marinara sauce of your choice (I love using Whole Foods' Roasted Vegetable sauce because it has chunks of tomatoes and peppers)
Himalayan sea salt
Pepper
Fresh mozzarella
Fresh basil leaves
Directions
Serves 4-6
Using a mandoline, slice each zucchini, after washing them of course, vertically.
Lay the slices onto paper towels and sprinkle a little bit of salt on each side to draw the excess liquid out of them. I promise this won't make them salty. Zucchini has so much water in it that it can end up making the lasagna soupy and not stick together well if this isn't done. After about 5 minutes, dab the slices with paper towels to soak up the excess water. Repeat as much as you feel is necessary.
Preheat the oven to 350 degrees.
In the glass baking dish, start by spreading a very thin layer of marinara on the bottom.
Lay the zucchini slices side by side evenly in one direction on top of the marinara layer to cover the entire bottom of the dish. Make sure the slices are touching, but try not to make them overlap.
Sprinkle salt and pepper.
Spread another very thin layer of the marinara on top of the slices. You want to make sure not to put too much marinara between each layer or the lasagna will end up soupy and that is not the desired effect. Unless you like zucchini soup, then put as much marinara as you want!
Lay a few very thin slices of the fresh mozzarella on top of the marinara layer. Unless you want it to be crazy cheesy, you don't have to cover every inch. I like to put about three slices per layer.
Break up or shred the fresh basil and sprinkle a little bit on top.
Repeat steps 5-8 until the dish is about 3/4 full. I always alternate the direction in which I layer the zucchini and make the first layer vertical, the next layer is horizontal, and so on.
Place in the center of the oven and bake for 30-40 minutes or until it makes the whole kitchen smell amazing and the mozzarella starts to brown on top.
Take it out of the oven, let it cool, and enjoy! Yummmmmmm:)
If you want to add ground beef or turkey to the lasagna, sauté the meat in a pan on the stove beforehand with seasonings of your choice and add a layer of meat on top of each zucchini layer.
Let me know what you think!
XOXO,
Brielle
You may also like...
News Categories
Latest News