The 2015 Grammy Awards
I spent this past week in Los Angeles to attend the 2015 Grammy Awards! It was my very first Grammys ever and was one of the most exciting nights I have ever had.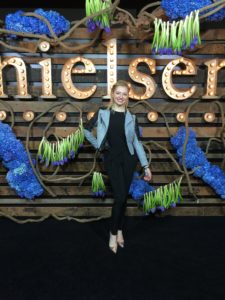 The day before, I attended Nick Cannon's Pre-Grammy Manager's Brunch and the Nielsen Pre-Grammy Party which were really fun. Bastille performed at the Nielsen party and they were so amazing! Dan Smith's voice is so good, even better live.
I was so excited to get ready on Sunday morning because I had a crown handmade by Monaltman and I got to wear the Hendricks Gown from the Black Halo Eve Spring 2015 collection and I am so in love with it!❤️ I surprised myself because it is not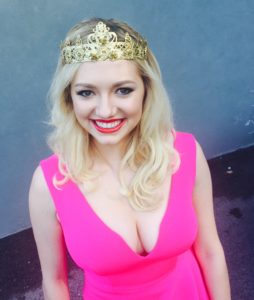 normally a gown I would normally gravitate towards, but it made me feel amazing when I first tried it on and it still made me feel amazing when I wore it Sunday night.
In planning what I was going to wear, I really wanted to incorporate red with the pink dress because I love red and pink together, so I thought about finding a red shoe to go with my dress. We couldn't find the perfect shoe, so we decided to tie a red velvet ribbon around my ankle instead. It's a really weird concept, but I loved it and just rolled with it!
The telecast itself was really cool to experience. There were commercial breaks just like there are on TV, but everything is so much more magical and epic when you experience it in person. My favorite performance was ACDC who opened up the show and made almost every other artist seem like child's play because they know how to perform- they know how to blow everyone away. Not to take anything away from anyone else, ACDC is just awesome. John Legend and Common who closed the night were my second favorite- so beautiful.
It's actually weird how differently the whole night translates on television. The next morning, I watched some of the performances on YouTube and I formed different opinions about them than I did when watching them live. There is so much more I noticed on TV that I either missed seeing in person- like Kanye's face when he almost interrupted Beck's speech and he stormed off stage.
Haha I kind of feel a little honored to have seen that huge Kanye fiasco- it was his firme on Grammys red carpetst time back in six years and the world still had not fully recovered from him jumping on stage when Taylor Swift won Album of the Year instead of Beyoncé. "I'm'a let you finish but…" jokes are cracked all the time and now the whole thing is even crazier! The whole stadium thought he was joking when he jumped on stage after Beck's name was called, I was dying! But…. yeah. It wasn't a joke as I clearly saw all over twitter and on TV the next day.
The after party was really cool to experience as well. The official name of it was "Passport To The World" and it "transported [us] through the elegance and glamour of air, sea and land travel during the '20s and '30s" – fancy. Jessie J performed while I ate chicken fingers (yes, chicken fingers!) and mingled, and she obviously was amazing.
Attending the Grammys was definitely a dream come true, but winning a Grammy would be a GINORMOUS dream come true!
You may also like...
News Categories
Latest News